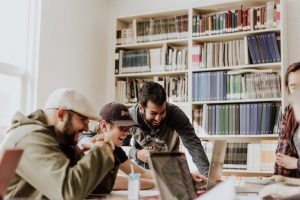 ✔ Productivity in the workplace is something many managers and professionals struggle with. Trying to encourage employees to work harder and stop wasting time can be frustrating. However, if employees find it difficult to be productive at work, it may be a sign that something is wrong with the culture of the office.
Creating a positive work culture can do wonders for productivity. Let's take a look at a few reasons why 👌
1️⃣ Positive Work Cultures Encourage Happier Employees
When someone dreads going into work, they're going to drag their feet all day. They'll constantly check the clock to see if 5 pm has rolled around. They'll do the bare minimum, never wanting to go above and beyond to show their skills or get ahead.
However, if you establish a work culture that employees are excited to be part of, they'll be happier with their jobs. Happier employees are more likely to exceed expectations, meaning your entire office can get more done.
2️⃣ Positive Work Cultures Promote Collaboration
In a positive work environment, employees will feel encouraged to get to know their coworkers and team members. When everyone is interested in chatting, spending time in the office and truly getting to know the people they spend each day with, people can feel more comfortable sharing ideas, opinions and tips.
Collaboration is a huge part of creating a productive work environment. When everyone on your team is working together to solve problems and be more efficient, you're able to get things done faster. C
3️⃣ Positive Work Cultures Inspire Creativity
A positive work culture encourages individuals of all experience levels to become invested in the tasks and projects they're working on. When employees feel like they're able to speak up about what they think is the best idea for solving a problem or making a product or service better, they'll feel open to discussing their creative ideas. Fresh perspectives are always important for being productive.